No one deserves to be hurt and no one is responsible for someone else's harmful actions.
In this time when many of us are sheltering in place, our options for staying safe have changed, but they have not disappeared. There is a lot we can do to make ourselves, our loved ones, and our communities safer.
#ShelterInSafety is a place to share our bravery and creativity. To help ourselves and those we love stay as safe as possible in circumstances that nobody should have to face, ever.
If you have a #ShelterInSafety story you would like to share with us, please use the contact form at the bottom of this page.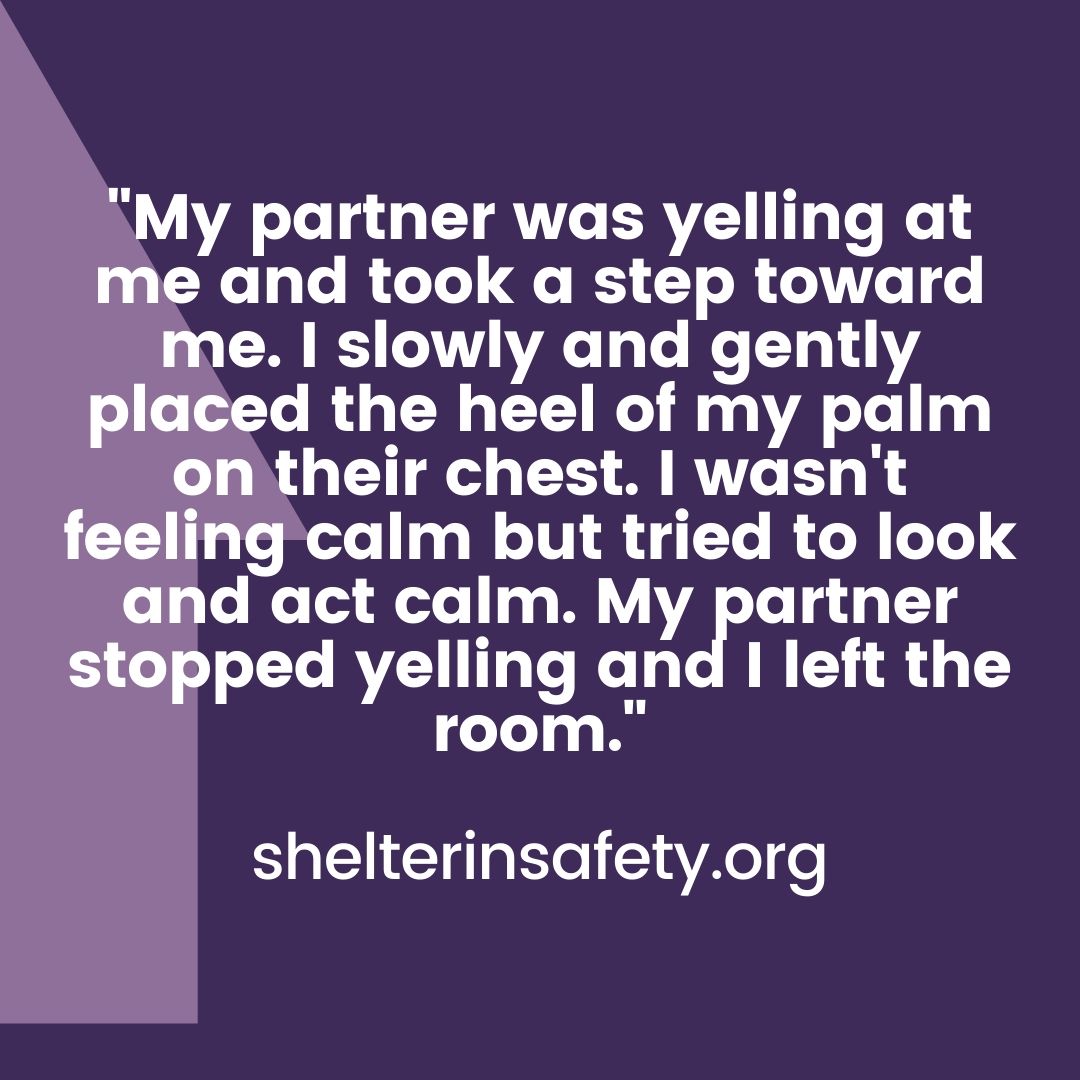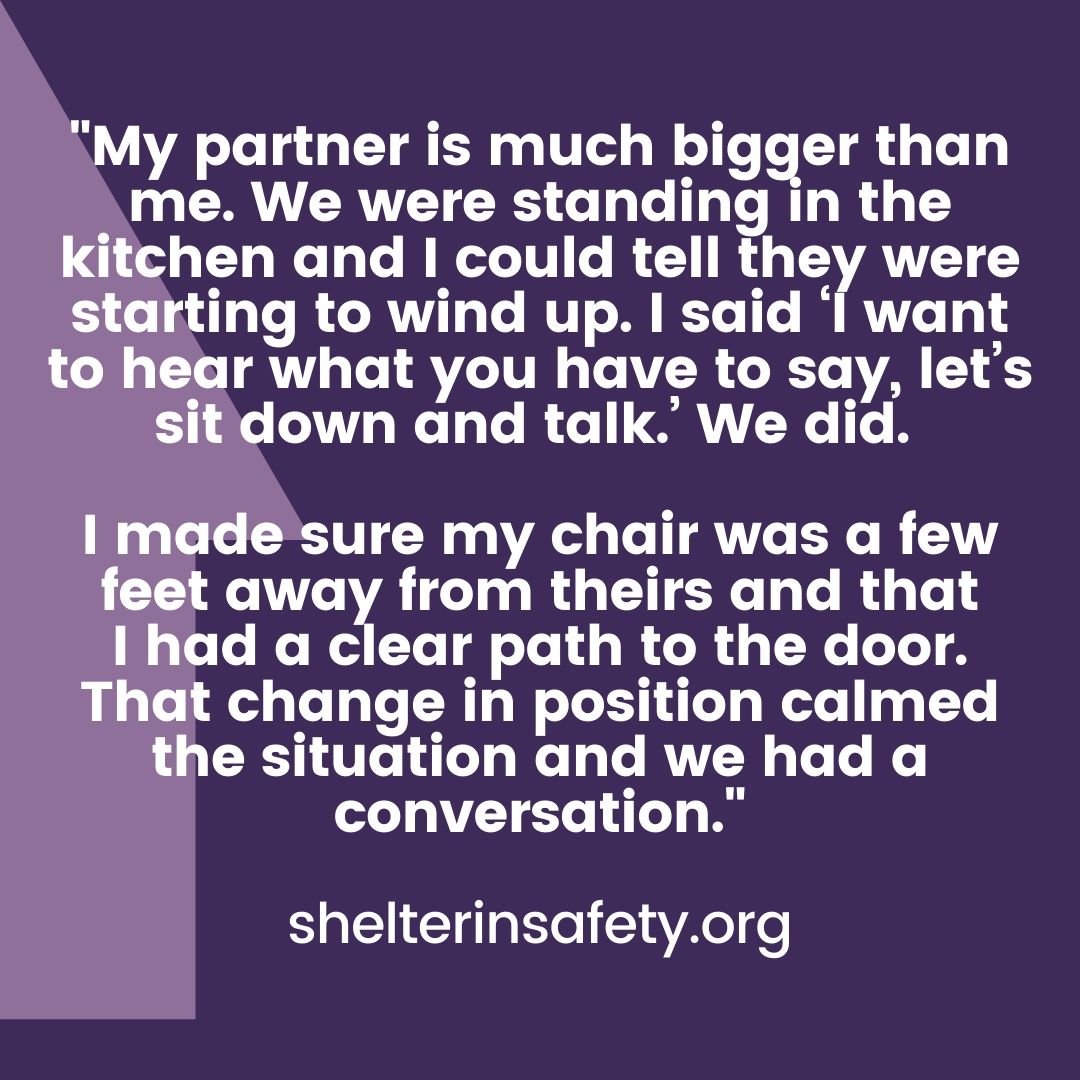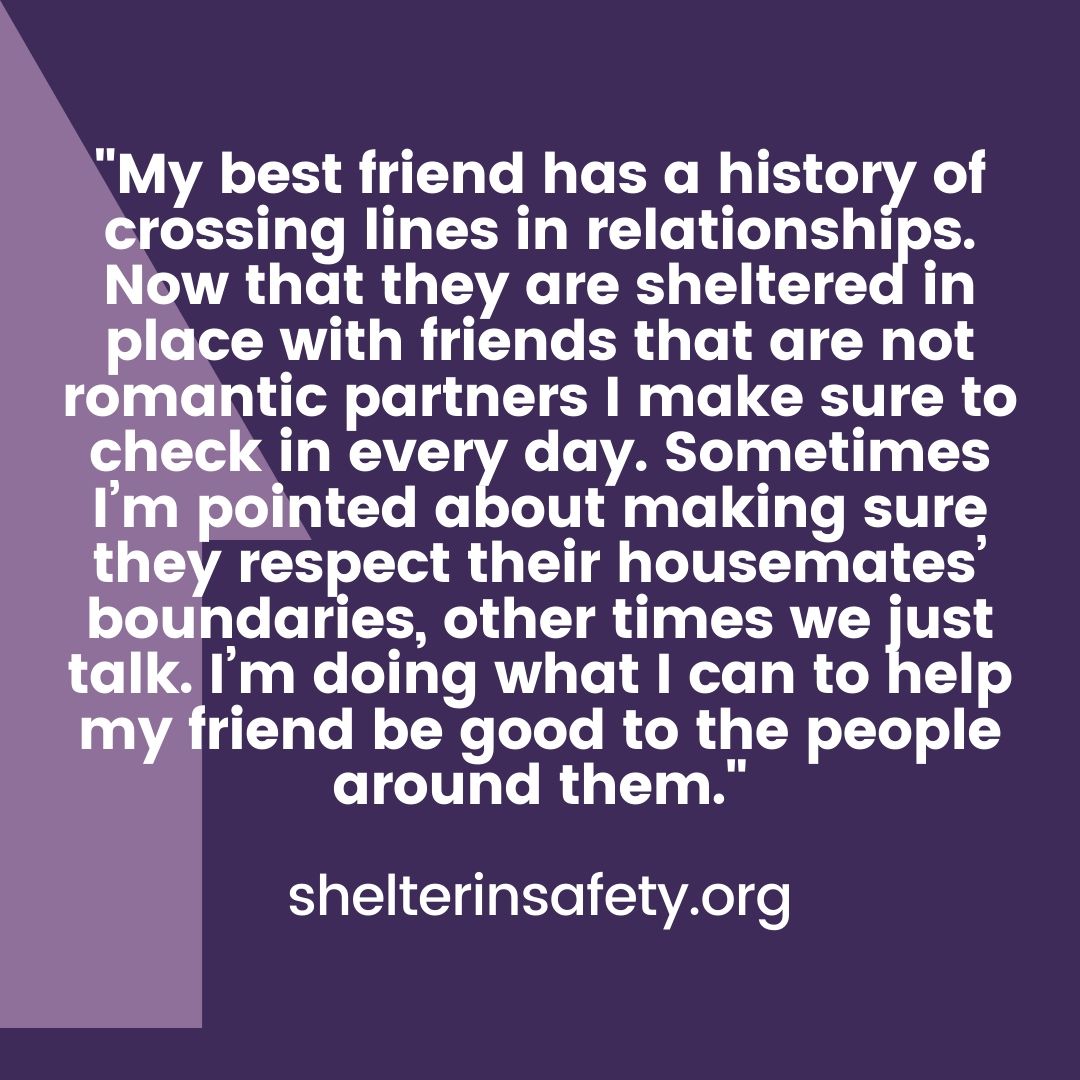 RESOURCES
Help a Friend Who is Experiencing Abuse
National Domestic Violence Hotline: Help for Friends and Family
IMPACT Boston: Bystander Intervention to Stop Sexual Assault
Preventing abuse of people with disabilities: End Abuse of People with Disabilities
REACH Beyond Domestic Violence: Jessica Teperow on How to Support Survivors in the time of COVID-19
Prevent Connect: Preventing violence in our homes: Meeting this moment with connection, care, and justice
Help a Friend Who is Hurting Others
Everyday Feminism: 6 Ways to Confront Your Friend Who's Abusing Their Partner
Violence Free Colorado: How to Help Someone Who is Abusive
Prevent Connect: Preventing violence in our homes: Meeting this moment with connection, care, and justice
Restorative & Transformative Justice
Critical Resistance: Resources for Addressing Harm, Accountability, and Healing
Impact justice: Restorative justice 101 webinar with ASL interpretation
Bystander Intervention: Creating Safer Communities
Black Women's Blueprint: Bystander Mixtape
National Sexual Violence Resource Center: Bystander Tips and Strategies
IMPACT Boston: Bystander Skills Practice
Safety Planning
Casa Myrna: Safety Planning
Safe Horizon: Safety Plan
New York Times on Technology Safety: Technology Safety
National Sexual Violence Resource Center: Digital Consent
Author Leslie Morgan Steiner:  What domestic violence survivors can do now to prepare for leaving
Keeping Kids Safe – Preventing Sexual Abuse
Assessing caregivers: Stopitnow.org – How to find safe childcare in emergencies
Talking to kids about online safety: Medium.com – What Parents Need to Know About Digital Consent
The Heal Project: Essential Workers Navigate Childcare
Resolve New Mexico: Parenting in times of crisis
Finding Power and Strength in Your Body
Empowerment Self-defense Alliance (ESD): https://www.empowermentsd.org/
Wild Inside Wellness:  Self-defense Technique
Self-Care and Resiliency
Option B: Build resilience and find meaning in the face of adversity
The Womxn Project: Sustaining Community Video Series
NSVRC: 7 Ways Survivors of Sexual Violence Can Practice Self-Care When Retraumatized During Tragedy
COVID-19 Resources from Sexual Assault and Domestic Violence Advocates
National Sexual Violence Resource Center: Resources for COVID19 Response
JDI: Coronavirus Resources and Information
Mutual Aid & Community Care
Autostraddle: We Have To Take Care of Each Other: Mutual Aid for COVID-19 and Beyond
Hotlines
Safelink – Massachusetts' statewide 24/7 toll-free domestic violence hotline: 1-800-378-1684
The Network/La Red (offers support services to lesbian, gay, bisexual, transgender, SM, polyamorous, and queer survivors of partner abuse): Hotline 617.742.4911 (voice) · 617.227.4911 (tty) http://tnlr.org/
Boston Area Rape Crisis Center (BARCC): 24 hour hotline: 800.841.8371, http://www.barcc.org/
The Disabled Persons Protection Commission (DPPC): (offers a hotline for reporting abuse against people with disabilities):         Hotline: 800-426-9009 or 888-822-0350 TTY,  http://www.mass.gov/dppc/about/
Jane Doe Inc. (a website to find resources in your area): https://janedoe.org/find_help/
National Domestic Violence Hotline: 1 (800) 799 – 7233
National Teen Dating Abuse Hotline: 1 (866) 331 – 9474
Native Helpline for Domestic and dating violence: Hotline: 1 (844) 762 – 8483
Gay, Lesbian, Bisexual and Transgender National Hotline: 1 (888) 843 – 4564 // Youth Talkline: 1 (800) 246 – 7743 //                          Senior Helpline: 1 (888) 234 – 7243, Email: help@LGBThotline.org
Rape, Abuse, and Incest National Network (RAINN) – National Sexual Assault Hotline: 1 (800) 656-4673
National Suicide Prevention Hotline: 1-800-273-8255
National Alliance on Mental Illness (NAMI) Helpline: Hotline: 1 (800) 950 – 6264, Email: info@nami.org
Teen Support Hotline: Call 310-855-4673 Text TEEN to 839863
Share Your #ShelterInSafety Story